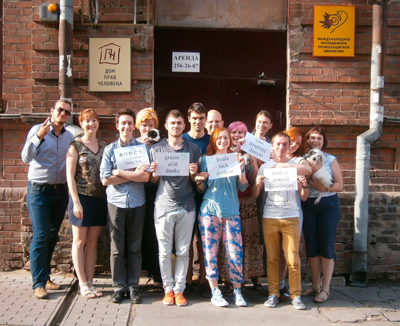 The Youth Human Rights Movement (YHRM) was founded in 1998. It was launched by several people working in human rights organizations. There were a lot of elderly former Soviet dissidents in this community and very few young people. It became obvious that the movement could not develop, unless serious efforts were taken.
One of the founders of YHRM was Andrey Yurov. He lived in Voronezh at the time, and the decision to establish YHRM there was a matter of principle. It is hard to keep a lot of people together for a long time in such a large and expensive city like Moscow.
When I came to YHRM in 2007, I was not thinking of it as of a human rights organization, I was thinking of a social alternative in a very broad sense, I wanted to find a community that was not oppressive and authoritarian like Soviet schools or post-Soviet universities were. I was looking for such a group of people and I found it. I became immediately interested in educational projects and in searching for alternative teaching methods, the non-totalitarian ones, without pressure and brainwashing. I still do not know how long I will stay in YHRM for.
We usually have team rotations every 3-4 years: people come, people stay for a few years and then they either change their work profile or go to the "next level." The founders are all over 30 by now and they are facing certain crises: personal, financial, or organizational, and some people just quit.
It is okay that people go. They have passed a certain test, they have obtained certain values, ​​and now they are going further into some urban projects or, perhaps, contemporary art, but they keep human rights in mind, they understand them and they are ready to talk about them.
We have human rights schools, and this allows YHRM to reproduce not merely as a specific organization, but as a whole crowd of people who have awareness about human rights.
Despite the efforts of the Russian state television, every semester we train hundreds of relatively young people who come to us and say «I want to be involved in the human rights movement.» These can be both 17-year-old students, who have just started their first year at university, and 40-year-old PhDs, who say that they have nothing left to believe in and that they want do "something" right now.
Oftentimes, the process that we create during our seminars is more like a group therapy rather than teaching, because we provide a place where people can speak without being interrupted. We hear people saying at the end of the day "I haven't had an opportunity to speak so freely in months."
«We officially stopped receiving foreign funding in 2012, and from that time on we have only been getting tiny Russian grants. The majority of employees have contracts with partner projects and work for YHRM on voluntary basis.»

After those brief introductory seminars we invite the participants to get some hands-on human rights experience: to go to court, to observe the police working, to help with research. So, even if those people do not end up working in the human rights field, they will still be prepared to act in a situation when their or others' rights are violated.
I have no recollection of big money ever being involved in this organization. Our funding is more like a decent subsistence, a dignified level of poverty.
International environment at work is very important to me. I know that very few people in this country have travelled abroad. This is sad. It is impossible to make a difference or really change anything within just one country, especially in our globalized world. Therefore, I identify myself not only with Russia, but rather with the post-Soviet and European spaces. And what I see at international meetings is that we, who have had post-totalitarian living experience, are capable of understanding each other much better, although the overall gap in understanding is still large, even huge.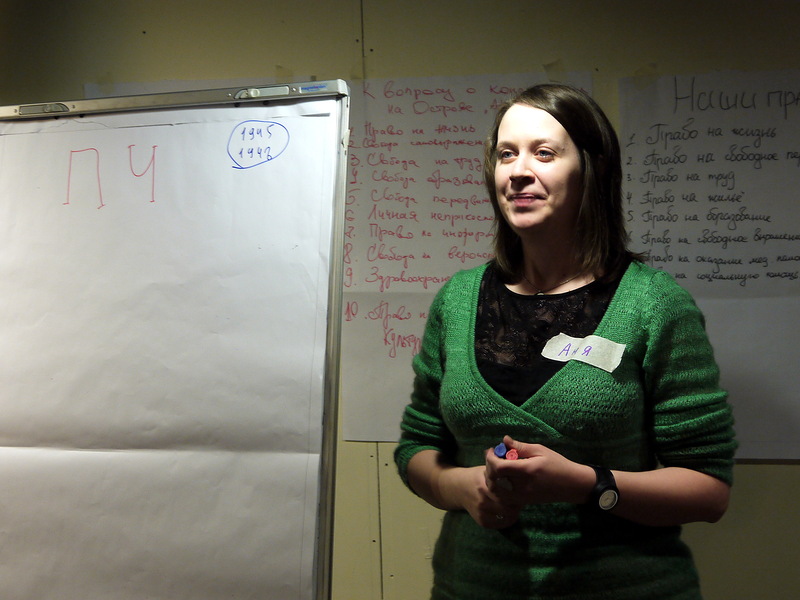 Besides, Europe and the United States are facing not less, but even more problems than we are, and some of those problems are very similar to ours. By now we can already share our own experience with our colleagues from abroad; they begin to learn from us. The times, when we only learned from them, as it was the case in the 1990-s, are long gone. For instance, it was us who invented and launched the unconventional methods of monitoring and expressing solidarity with Belarusian activists in 2010, when citizens were massively detained after the election. Now that case is often referred to as an example of efficient and creative work in Europe.
In this sense, the Russian society is underestimating us greatly, because we are often not "Western agents" here, but actually "Russian agents" there. Yet, we are not the agents of aggression or war, but the agents offering solidarity, collaboration, and the understanding of our common challenges.